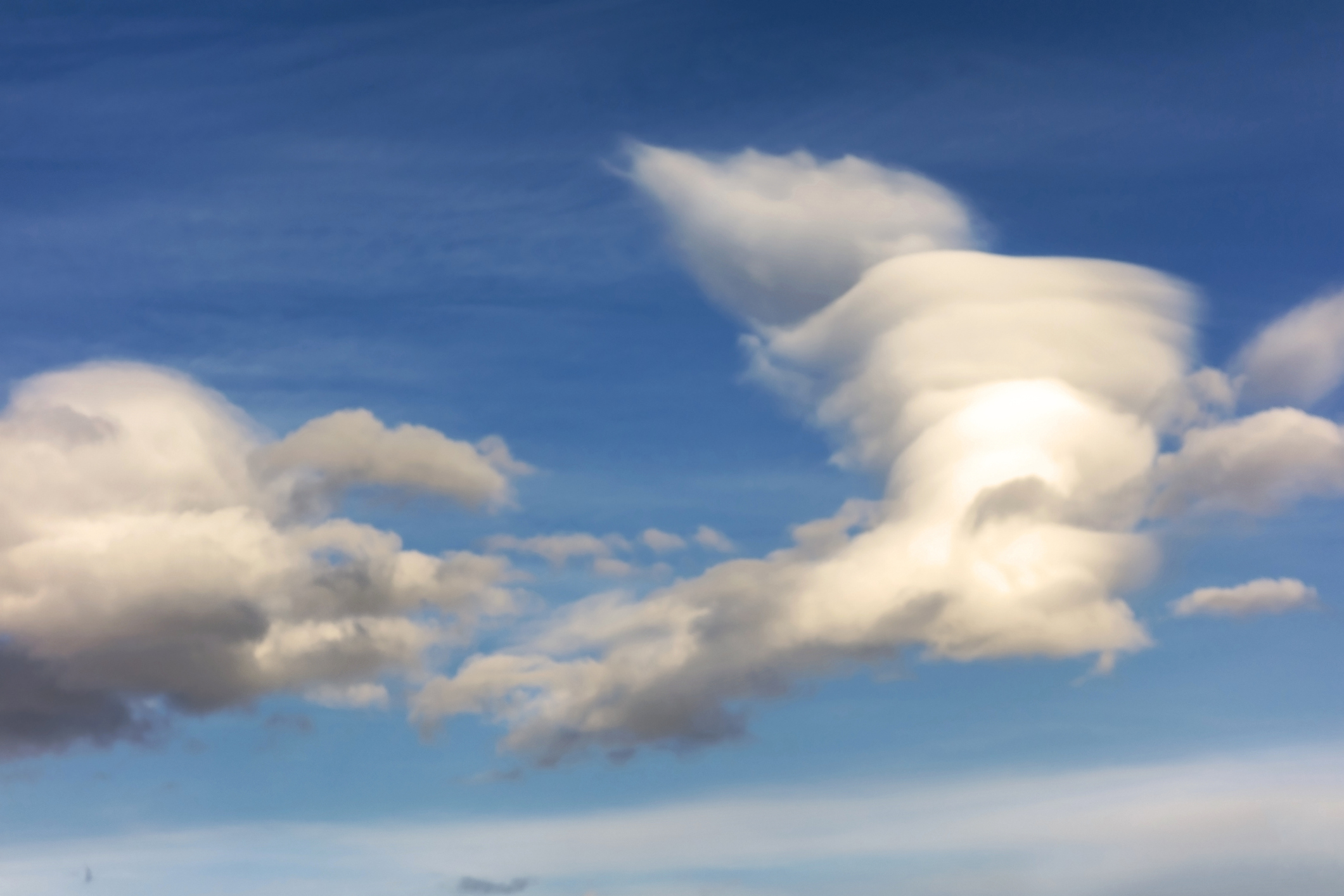 Chinook, the second Atheer Front Line Worker Platform release of 2021, is now available. It is designed to allow front line workers to:
* Use the device that's right for the job they're doing
* have a digital work platform that can be customized to the way their company works
* and bring the right people in to work on jobs, with clear details on who is doing what
These are just a few of the new capabilities in this release – and they span the four key elements of Atheer: platform, self-assist, remote-assist, workflow-assist and platform.
Platform – The platform enhancement features in Chinook ensure that front line teams can:
work with the right mobile device for the right task (with new enhancements that optimize the Atheer platform for the Vuzix M400, the Google Pixel 5, Apple iOS 12+ devices and RealWear's firmware release 12.0).

The Chinook release of Atheer includes optimization for the Vuzix M400 smart glasses.
deploy Atheer more broadly internationally, with options for 8 additional languages, as well as the ability to host workspaces in China.
configure Atheer to work in a way that makes sense for the organization and the work that it does. It allows "feature flags" to be set by top-level administrators (ie. super admins), so that features (such as the ability to invite guest users) can be toggled on or off.
customize the look of Atheer, as the Chinook release allows enterprises to have their own, branded instance of the Atheer app, workspace and studio. Using a white label version of the app also ensures that users no longer need to select a workspace. They are automatically signed into the company's workspace.
more detailed control of proxy settings when helping front line teams to connect with Atheer. New support for the direct entry of proxy settings on devices allows devices on a secure company network to connect to the Atheer Cloud. This feature is currently supported only on Android and includes support for use of HTTP Proxy.
get into an Atheer AirSession even more quickly from within the AiR Lens mobile application. The Chinook release adds an additional AiRSession icon to the Lens main navigation, providing a faster way to quickly join an AiRSession.
get immediate updates on any system downtime. The Chinook release introduces AiRTrust, where Atheer customers can instantly see data about any current – or historical – instances of downtime. Users can also subscribe to the status update feed, so that they are proactively notified about any downtime issues as they occur.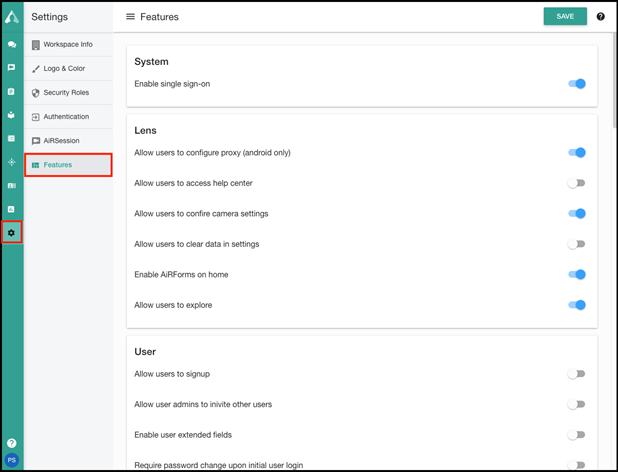 Feature flags can now be set by top-level administrators (ie. super admins) to toggle features on or off.
Self-assist – Atheer is designed to help front line workers help themselves by making the right information available at the right time. In the Chinook release, Atheer SmartScans (a marker-based object recognition system that allows users to scan for a marker through the Lens App and get instant access to the relevant documents, AirForms and Experts) has been beefed-up to include a new "Text Scan" mode that leverages the optical character recognition (OCR) capabilities of Atheer to associate a pre-existing asset number (examples like VIN#, Machine #, Serial #) with specific Content, AirForms and Experts. Frontline users can use this new Text Scan mode – in addition to QRCode and BarCode modes – to scan for text/numbers/strings and pull up relevant datasheets, documents, step-by-step instructions and experts.
Remote-assist – The remote-assist enhancements in the Chinook release are designed to increase ease of use and consistency (making it simpler to share files and URLs in conversations, as well as keeping on-screen messages consistent across devices), provide greater flexibility (by allowing mobile guest users to join AiRSessions from mobile browsers) and access AirSession data and recordings for review and analysis.
Workflow-assist – In addition to providing self-assistance and remote assistance for front line teams, Atheer also supports them in working through their jobs with Workflow-Assist capabilities. Atheer is a no-code platform, meaning that it allows teams to model and digitize business processes using AiRForms (Atheer's digital work instructions). The Chinook release provides a several important new capabilities that allow organizations to:
set a "role-based scope" on the steps in an Atheer AiRForm. This capability enables collaborative Job execution in scenarios such as a line changeover job (where the first set of steps are to be completed by an operator and the next set of steps are completed by a quality inspector) or a hazardous job (where a given operators may need to show they have completed all the required training and certifications, and a supervisor can either sign off, post which operator can start on the job – or the supervisor can reject and abort the job).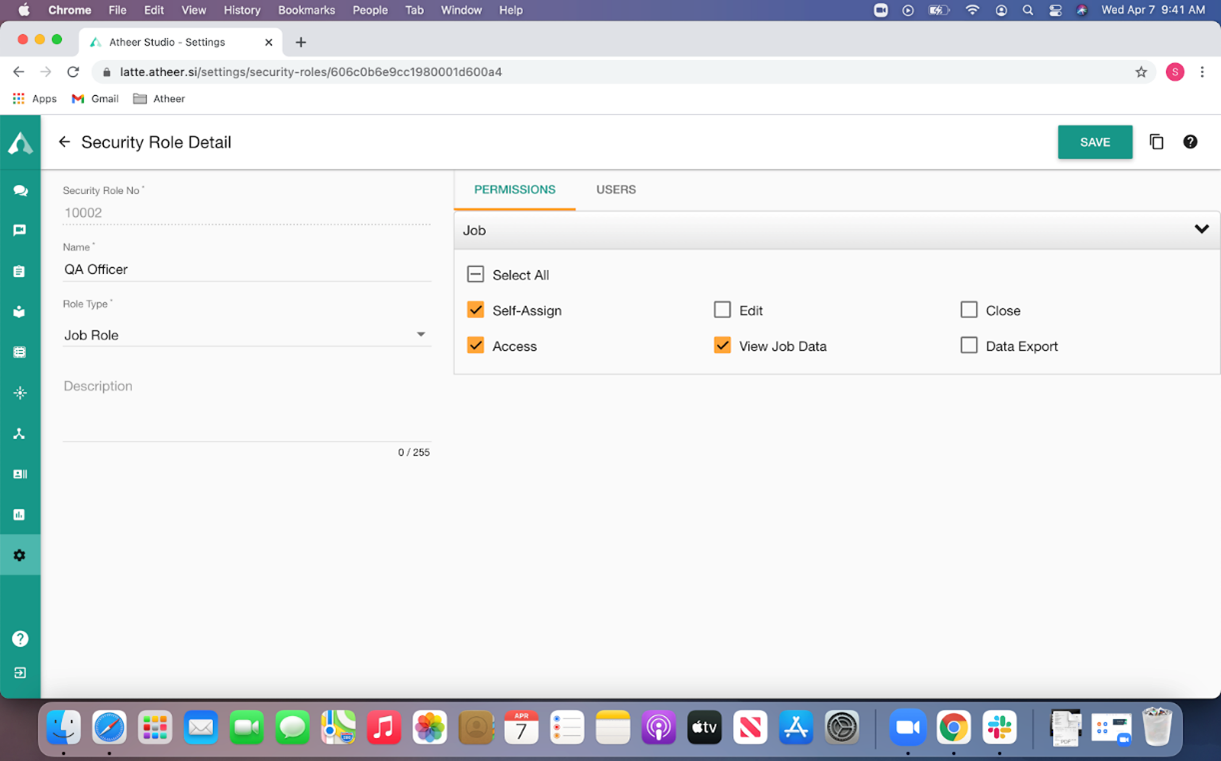 For every step in an AiRForm authored in AiR Studio, a role can be specified.
define smart alerts or notifications within an AiRForm. In the case of safety or quality deviations, for example, it is possible to pre-define who needs to be notified and how (ie. through email, SMS text push notification or any other supported mechanism).
easily access step-by-step progress in the Atheer Lens mobile app. The Lens app now supports navigation and review of all completed steps in a Job from the Table of Contents. This allows a manager or supervisor, for example, to be able to review the progress of an incomplete or in-progress Job from the app, using "View Progress".
automatically schedule jobs based on data from file-based "light integration" with upstream enterpise systems using Atheer SmartFlows. This new Scheduler support allows Atheer to leverage its SmartFlows integration technology to enable automatic creation of Jobs.
These are just some of the new capabilities in the Chinook release of Atheer.
For full details on how this new release can make a difference in your business, contact your customer success manager or drop us an email at info@atheerair.com .